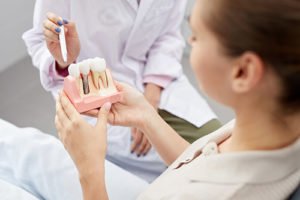 If you are missing a tooth, it may affect the way you eat or talk. A missing tooth can also put added wear and tear on your gumline tissue. A dental implant can replace your missing tooth and give you a full set of teeth once again. Lovett Dental Katy specializes in dental implants to restore your smile.
We custom-fit your implants to match your teeth and fill the gap. Dental implants are a long-term solution for missing teeth. You care for them in the same way as you would the rest of your teeth, and they can give you the smile you want. Contact Lovett Dental Katy today to find out more about dental implants services.
What Are Dental Implants?
A dental implant is an artificial post that we surgically position into your jaw to stabilize and hold a dental crown. A dental implant usually consists of titanium, which gives it strength and longevity.
Dental implant services offer a more dependable solution for replacing a missing tooth than dentures or dental bridges. We can place multiple dental implants in areas where you have more than one missing tooth. Once we position the implant in the tooth, the jawbone will support it.
Dental implants are designed to look and feel like a real tooth. Nobody looking at your tooth will notice any difference between your real teeth and the implant. More importantly, a dental implant can strengthen your entire set of teeth and give you greater chewing capability.
Are You a Candidate for Dental Implants?
If you are missing a tooth, you may discover that there are several possible solutions for filling in the gap. An implant is perfect for you if you have lost a tooth or multiple teeth due to an accident.
For instance, if you have a tooth knocked out due to an impact, you will likely be unable to replace the tooth because it is too heavily damaged. To restore your teeth, a dental implant can completely replace the tooth and the root instead of just the tooth. It is a complete restoration, not a partial one.
Lovett Dental Katy can assess your tooth damage and dental implant services based on your individual needs. You will love the results, as your new tooth will look just like your other teeth.
Benefits of Dental Implants
There are several benefits of dental implants services:
A natural look that blends in perfectly with your other teeth
A high success rate with few problems
Long-term results, with up to 15 years of performance per tooth
Easier to speak, eat, and swallow your food
Feel like real teeth–you will not know the difference
Caring for Your Implants
Although dental implants can last for up to 15 years (sometimes longer with ongoing care), neglect or abuse can cause them to lose attachment in a much shorter time. So, if you practice poor oral hygiene or if you are continually biting down hard on tough substances, then you could damage your dental implants.
The best way to take care of your implants is to brush and floss daily. You may also want to schedule a routine professional cleaning at Lovett Dental Katy. The more you take care of your dental implants, the longer they will last and perform well. If you ever have a problem with your implants, then contact us right away. We can solve most problems quickly and with little effort or cost to you.
Find Out More About Our Services
If you are looking for a solution to a missing tooth, it may be time to get dental implants. Lovett Dental Katy offers dental implants that can replace any gap in your teeth. Call us today at 832-437-6477 or contact us online to find out more about the benefits of dental implants.