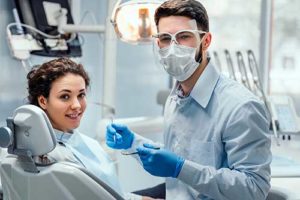 Lovett Dental Katy is a multidisciplinary practice. We want our patients to have full access to all areas of dental care in one practice. Your smile and dental health are our number one concern. Keeping up with dental hygiene and care can be time-consuming. We want you to be able to visit at convenient times and locations for your busy life so dental care isn't a daunting task. If you are looking for dental specialist services, Lovett Dental Katy is a great choice.
Connect with us at 832-437-6477 or reach out online today to schedule an appointment.
Our Specialty Dental Specialists
Lovett Dental Katy offers several different dental specialist services. Each of our specialists is board-certified and experienced in their field of expertise. You can rest assured that you and your family will receive top-quality dental care. Our specialties include:
An endodontist works with the soft tissues inside the tooth. It is sometimes difficult to diagnose tooth pain if it is deeper inside of the tooth. This specialist deals with those types of cases. Training includes more complicated root canal procedures.
A pediatric dentist treats children from infancy through the teen years. Children have specific dental health needs and a specialist is educated in what those needs are
A periodontist deals with gum diseases, inflammation, and dental implants. He/she can perform gum surgeries as well as deep cleanings. If you or a loved one is dealing with gum disease, Lovett Dental Katy offers specialty dental services that include periodontal care
An orthodontist is most widely known for placing and maintaining braces. They can also help with speech defects, problems with chewing or maintaining proper hygiene that may be caused by overbite, underbite, or jaw alignment
A maxillofacial surgeon cares for patients with issues related to the structure of the mouth, face, jaws, and skull. They can perform corrections such as cleft palate or lip, difficult teeth extractions, facial trauma, and wisdom teeth removal. Our maxillofacial surgeon can also perform cosmetic surgeries as needed. Lovett Dental Katy performs dental specialist services, including maxillofacial surgery
What Specialty Dentistry Services Do We Offer?
Since we offer specialty dental services, Lovett Dental Katy can treat any dental problems you may be experiencing. From the little ones all the way up to the elderly, our team of specialists can help with all of your family's oral health needs.
Pediatric Dentistry
You can bring the whole family to us. Our pediatric dentist can keep your child's smile beautiful for a lifetime of good dental health. We're experts at helping children feel comfortable during their appointments, which can help your loved ones have healthier teeth and gums for life. It is important to start your child at an early age with regular dental care.
Dental Braces
If you have misaligned or crooked teeth, dental braces can give you the smile of your dreams. From clear aligners to traditional metal braces, we offer a variety of options.
Veneers
For teeth that are chipped, worn, or stained, dental veneers can improve the look of your teeth. Veneers are a thin porcelain covering that hides imperfections in the teeth. They're durable and can also protect your teeth from bacteria, plaque, and resulting decay.
Dental Implants
If you need dentures or a bridge, dental implants are better than traditional dentures. They are longer-lasting, look better, and are easier to maintain. In addition, dental implants help to keep your jaw in good shape. Our dentists can tell you more about dental implants and the process that is involved.
Cosmetic Dentistry
Looking to improve the appearance of your smile? Lovett Dental Katy offers high-end cosmetic dentistry services. In-office or at-home teeth whitening can remove surface stains and give you a brighter, whiter smile.
In addition to specialty dental services, Lovett Dental Katy offers general dentistry services as well. We'll keep your teeth and gums healthy through regular cleanings, dental exams, cavity fillings, and other treatments.
Lovett Dental Katy Does It All
One-stop shopping is easier and more convenient. At Lovett Dental Katy, our dental specialist services cover any and all dental care needs. Each of our offices features a compassionate staff, a comfortable, relaxing atmosphere, and top dental specialist professionals. We also have early and late hours as well as Saturday appointments so you can come to see us on your schedule.
We also specialize in dental anxiety, so if you have been putting off going to the dentist due to fear, let us help. Sedation dentistry can ease your fears ahead of dental procedures. Call us today at 832-437-6477 or contact us online to make an appointment.