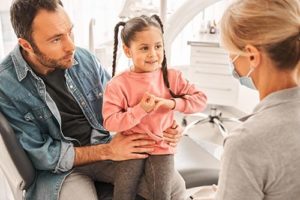 Are you looking for family dentistry services? At Lovett Dental Katy, we offer a wide range of general dental services for the whole family. Whether you're in need of preventative services like cleanings or sealants or help for dental issues like cavities or gum disease, we can help.
In our dental practice, we're committed to providing a comfortable experience for your whole family. Children and adults can keep their teeth and gums healthy with the help of Lovett Dental Katy. Reach out to our team at 832-437-6477 to schedule an appointment today.
General Dentistry Services
General dentistry is the foundation of healthy teeth and gums. We'll help your whole family stay healthy through our comprehensive list of services, which includes:
During regular exams and cleanings, your dentist will check for any potential problems, which might include tooth decay or the beginning stages of gum disease. One benefit of regular visits to your dentist is that they'll be able to treat issues before they turn into more complicated problems.
Regular visits to the pediatric dentist can also help children build healthy habits. Your child can learn how to brush and floss properly, and treatments like sealants can ward off tooth decay and other issues.
Emergency Dental Services
If you or a member of your family experiences a dental emergency, you can rest assured knowing that Lovett Dental Katy is ready to help. Some common dental emergencies we can help with include:
A broken, cracked or dislodged adult tooth
A lost crown or filling
Painful toothaches
Dental trauma
Call on your family dental practice at Lovett Dental Katy when you need timely assistance.
Sedation Dentistry
We understand that many children and even some adults can experience feelings of anxiety about dental procedures. However, you can experience relief from anxiety thanks to sedation dentistry. Sedation dentistry involves using sedation to help patients feel more comfortable during dental procedures. This approach to dental work is safe, effective, and painless. If you decide to use sedation dentistry, you will have a choice of methods. We offer:
Nitrous oxide, which is commonly referred to as laughing gas
IV sedation, which consists of a mild IV drip that keeps you at ease while your Lovett Dental dentist is performing the dental work
Oral sedation, which is taken in the form of an easily-swallowed tablet before you arrive for your appointment.
With the help of mild sedation, you and your family members can get the dental services you need without experiencing any anxiety.
Cosmetic Dentistry
If you don't feel confident in your smile, our cosmetic dentistry services can help. Teeth whitening can remove years of stains from coffee, wine, or smoking. Veneers, crowns, and bridges can fix gaps in your smile. And braces can straighten your teeth and boost your confidence. We offer a wide variety of cosmetic services at Lovett Dental Katy and can help your whole family look and feel their best.
Talk to your dentist about which of our cosmetic dentistry services might be right for you. Some of the options we offer include:
Professional teeth whitening – This can be done in the span of a lunch break. It's painless, fast, and offers instant results.
Dental bonding – This option is perfect for chipped or broken teeth, and no one will be able to tell that your tooth has been bonded. Even up close, the results are natural-looking and attractive. Plus, dental bonding lasts for many years.
Veneers – Thin shells are permanently bonded to your natural teeth. Once the process is complete, you take care of your veneers just as you would your natural teeth. And, like dental bonding, no one will be able to tell that you have veneers. In fact, some of your friends and colleagues may already have veneers without you realizing it!
Braces – There are many styles of braces that you and your family members can choose to wear that are more comfortable and less visible than the older-style metal braces that you may be familiar with. Talk to your dental professional at Lovett Dental Katy to learn more about your options when it comes to braces.
Pediatric Dentistry
Our goal at Lovett Dental Katy is to ensure that your child enjoys a lifetime of optimal oral health. As such, we go out of our way to provide pediatric dentistry services that will make your child feel at home in our dental offices. From the age of six months, which is when you can expect to see the first baby teeth arrive, all the way through adulthood at age 18, your child will receive exceptional, friendly, and professional dental care.
Contact Us for Family Dentistry Services
For more information about all of the family dentistry services offered at Lovett Dental Katy, please contact us at 832-437-6477 or reach out to us online. We're always happy to help, whether you need emergency dental services, general dentistry, or specialized dental services.