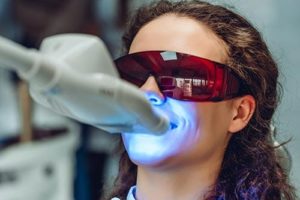 Have you ever had the experience of looking at a picture of yourself only to discover that your smile is no longer as bright as it once was? Over time, regular wear and tear, as well as certain foods and beverages, can discolor your teeth. If you want a brighter, whiter smile, our teeth whitening services can help
Lovett Dental Katy offers teeth whitening services to help your smile look its best. Teeth whitening can drastically improve the look of your teeth by removing any discoloration. Our in-office and take-home whitening options can quickly boost your self-confidence
Our cosmetic dentists can transform the look of your teeth. To schedule an appointment for teeth whitening or regular cleaning, reach out to Lovett Dental Katy today.
Do You Need Teeth Whitening Services?
Stained or discolored teeth do not necessarily mean that you are experiencing an oral health issue. While tooth decay can cause the surface of your teeth to look dull or discolored, regular wear and tear can also lead to a smile that's not as bright as it once was. During a dental exam, your dentist will check to see if there are any health issues that have contributed to discoloration.
Other reasons why your teeth can become discolored include:
Food and drinks with heavy coloring or pigmentation, such as coffee or red wine
Acidic food and beverages, such as tomato sauce
Tobacco
Side effects of medication
Natural aging
Poor dental hygiene
Most adults are good candidates for teeth whitening. However, whitening agents will not work on veneers or crowns. Talk to your dentist about your options if you're concerned about how whitening will affect any dental work.
The Process for Teeth Whitening
When you schedule an appointment for teeth whitening, here is what you can expect:
Bleach Application
We apply bleach to your teeth that dissolves the stains by penetrating the enamel. This process is called oxidation, and it is useful for restoring the look of your teeth.
We clean the teeth with pumice to ensure that the solution produces even results across the surface. In other words, you don't want part of your tooth to be white while the other part is still dark. Next, we apply a protective coating to keep them from becoming sensitive.
Gel Application
Finally, we apply a whitening gel directly to your teeth. The process typically takes one to two hours, depending on the condition of your teeth and your desired outcome. We work with you to help you achieve the level of whitening you want for your teeth.
Take-Home Whitening Solution
Once you complete our teeth whitening procedure, our take-home whitening solution is a great option. We can help you with an alternative approach that will work better than over-the-counter whitening kits or toothpaste. Ask us about our take-home whitening solutions during your next appointment.
Benefits of Teeth Whitening
There are several benefits of professional teeth whitening services, such as:
The process is much faster and efficient than over-the-counter options
You get better results
You can choose the shade of white you want for your teeth
It is a safer alternative and a more comfortable process
You can consult with a specialist to get the answers you are looking for
One of the main reasons why you may want a brighter, whiter smile is to boost your self-confidence. This is why professional teeth whitening services are the right choice for you. You'll get the smile you've always wanted, and you'll be able to show it off proudly.
Side Effects of Teeth Whitening
Sometimes when you whiten your teeth, they may become sensitive for a short time following the procedure. This is common and will fade in a short time. If you struggle with tooth sensitivity, speak with your dentist before the whitening procedure. Certain toothpastes can also ease sensitivity.
Keep in mind that teeth whitening services work best if your teeth are already in good condition. If you currently have cavities, gingivitis, or gum disease, we will need to treat your condition before applying teeth whitening solutions. We recommend a complete oral exam with our general dentist before we whiten your teeth. This will help us identify any other problems that are causing discoloration.
Reach Out to Lovett Dental Katy Today
If you are ready for a brighter, whiter smile then contact Lovett Dental Katy. We offer a variety of teeth whitening options as well as other cosmetic dentistry services. These include:
Regular cleanings are one of the best ways to keep your teeth and gums healthy, which can help ward off future stains.
To schedule an appointment with one of our dentists, call us today at 832-437-6477 or contact us online. We are here to help you feel confident in your smile.[/vc_column_text][/vc_column][/vc_row]