For many people, dental anxiety is a very real concern. At Lovett Dental Katy, we understand your concerns. That is why we offer sedation dentistry. Our trained and experienced dental team can help you to get in to see your dentist without having to feel at risk. We understand your needs and offer several forms of sedation to help you. You do not have to avoid the dentist any longer.
What Does a
Sedation Dentist Do

?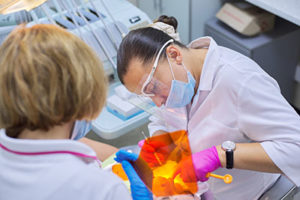 Many people do not know this is a service they can access. If you are looking for a sedation dentist, that means you are looking for a dental care provider that offers sedation services. Sedation is meant to help ease your discomfort and anxiety related to a dental appointment or procedure. It can put you at ease while you get your dental work done. We offer several forms of support for our clients, including:
Nitrous oxide, or laughing gas, which can help to calm nerves and reduce discomfort
Oral sedation, a pill taken prior to an appointment, to reduce phobias and anxiety
IV sedation, designed to help provide more level care during longer procedures
In addition to these three types of sedation, we do use general anesthesia in our practice. However, this is used in only complex and more intense procedures that will take a longer time and require you to remain very still.
Why Should You Consider Sedation Dentistry?
If you have no concerns about coming in for an appointment, we do not recommend sedation services. Most people will not need sedation for minor procedures, either. If you are going to have a more invasive procedure that could cause discomfort, we will use localized medications to reduce any pain you may feel.
Others struggle with dental anxiety. This is a somewhat common condition in which a person fears dental appointments or procedures. Sometimes it is a fear of pain or discomfort. Other times, it is a phobia that occurs without any real understanding. In all cases, if you feel you are likely to be too anxious to come in for care, we recommend using our sedation dentist services.
Common Procedures Requiring Sedation Dentistry
Some people should consider a sedation dentist for their needs. This includes those with a low pain threshold or very sensitive teeth. If you have a bad gag reflex, this can also be helpful. Other times, the procedure you are likely to have may require some type of sedation to ease discomfort. This includes procedures such as:
Tooth extraction procedures
Root canals
Types of orthodontic procedures
If you are unsure whether or not you could benefit from sedation, just ask. Most of the time, we will tell you about what your options are as well as what you can expect before and after your procedure. Our goal is to ensure you always get the care you need.
Seek Immediate Help at Lovett Dental Katy
Many people let their anxiety about visiting the dentist keep them from getting the necessary work done. A sedation dentist can help ease your anxiety so you can get your teeth taken care of. If you are looking for a sedation dentist you can depend on, call our team at Lovett Dental Katy. With years of experience and a dedication to providing our clients with superior service, you can trust us to keep you safe and comfortable. To schedule an appointment or ask us a question, call 832-437-6477 or contact us online today. Get the smile that you have always wanted with us.