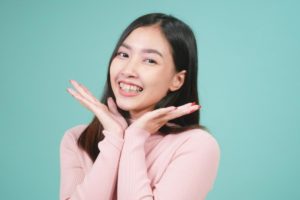 At Lovett Dental Katy, we are here to serve our community. Our goal is to make sure that everyone has access to comprehensive oral healthcare services. This includes preventative care like regular dental cleanings as well as specialty dental services like orthodontics. If you're in need of orthodontic services in Katy, Texas, or the surrounding area, our team can help. Whether you have crooked teeth, a misaligned bite, crowding, or other oral health issues, our orthodontic services can give you a healthier smile—and one that will make you feel confident.
Schedule an appointment with Lovett Dental Katy today at 832-437-6477, or reach out online to learn more! We're here to give you the smile you deserve.
What Is an Orthodontist?
An orthodontist specializes in issues relating to the alignment of the mouth, the teeth, the roots, and the jaw. An orthodontist has completed four years of college, four years of dental school, and then has completed additional training to become an orthodontist. Even though it is possible that a general dentist can handle a lot of the issues related to the alignment of the teeth and the jaw, a trained orthodontist might be required in some situations.
Dental braces are the most common type of orthodontic service. Your dentist might refer you to an orthodontist if they have concerns about your bite or other issues.
An Overview of Braces
When it comes to orthodontics, a lot of people think about braces. Even though many people believe that braces are associated with middle school and high school, millions of adults and young people in the United States wear braces. About a quarter of these individuals are adults.
That is why we take care of everyone who requires orthodontic services in the local area, regardless of age. Some of the most common reasons why someone might need braces include:
The jaw is not properly aligned.
Some of the teeth are out of place.
There might be one or more missing teeth, and these teeth need to be shifted to make room for dental implants in the future.
If you have misaligned or crooked teeth, this can make it hard for you to clean your teeth effectively. As a result, this could place abnormal pressure on certain parts of your mouth, leading to complications down the road. You might also be more prone to developing cavities if you can't clean certain areas of your mouth. Therefore, if your dentist recommends orthodontics for you, reach out to an orthodontist for a consultation right away. If traditional braces aren't right for you, there are other options to choose from.
What About Clear Aligner Trays?
A lot of people have questions about an alternative to braces called clear aligner trays. These trays are used to shift the teeth into the correct location gradually. Clear aligners offer a number of benefits, including:
Clear trays can actually move the teeth as quickly as braces.
Because clear aligner trays are actually removed to eat, it is easier to take care of the teeth with these trays.
Because these trays are clear, they are nearly invisible to the naked eye when they are in the mouth, which can boost your self-esteem.
Therefore, if you are interested in learning more about clear aligner trays, we can help you with this. Our goal is to present you with all of the options to make an educated decision regarding your oral health care or the oral health care of your child. Count on our orthodontics department to help you with all of your teeth and jaw alignment needs.
Contact Lovett Dental Katy Today for Professional Help with Orthodontics
At Lovett Dental Katy, our main priority is the health of our patients. Taking care of your teeth and gums can help you avoid any complicated oral health issues down the road. That is why we provide everyone with access to comprehensive dental services, which include emergency services. If you have a chipped, cracked, or broken tooth, come in to our office right away.
We have a professional orthodontics team that can help you with all of your alignment issues. We are going to work with you to personalize our treatment options to meet your individual needs. If you would like to learn more about how we can help you with all of your oral health care needs, then give us a call today at 832-437-6477 or contact us online. Our team would be honored to take care of you and your family.