Clear aligners are one option for straightening teeth. If you have crooked or misaligned teeth, this solution may be right for you. Clear aligner trays are significantly different from traditional braces. For many people, they offer a wide range of benefits. Our dental team at Lovett Dental Katy will be able to provide you with the resources you need to ensure you get the best results possible.
How Do Clear Aligners Work?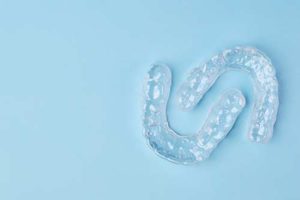 Clear aligner trays are designed to fit into your mouth. Unlike braces, they do not attach to the surface of the tooth. Rather, the tray itself is uniquely designed to apply just enough pressure in the right manner to push your teeth into the right place. This process doesn't hurt. However, over a period of time, this process can significantly improve your smile, giving you the straight teeth you desire.
Clear aligner trays are made of acrylic. They are designed to be very durable, but they are also very comfortable. You may find these aligners are perfect for teeth straightening.
What Are the Benefits of Clear Aligner Trays?
There are various types of teeth straightening methods. That includes traditional metal or ceramic braces. Clear aligners are significantly different, and that produces some of the best benefits to today's patients. These benefits may include:
No one knows they are there because they are clear and hard to see
You can easily remove them to brush and floss your teeth
No pain or discomfort, including no tightening of them like braces
Flexibility in eating whatever you want to eat
Easy to care for solution
Clear aligners work very well. Sometimes they can work faster than other types of teeth-straightening methods. The key is keeping them in place. While you can remove them for a quick picture or to eat, you should replace them and keep them in your mouth as much as possible, according to your dentist's recommendations. This can play a role in your overall success.
The Process of Getting Clear Aligners Fitted
When you come in for an appointment with our orthodontics team, we'll provide x-rays and an exam to ensure your dental health is in line with your overall goals. It is important that your teeth are healthy enough for this process. If you are approved for clear aligner trays, we'll start the process by taking measurements and images of your mouth. It's important to have these trays designed just for your teeth to ensure they can work to properly align your teeth over time.
Clear aligners are then positioned into place after they are created for you. Over a few weeks, you'll need to come back in for a checkup and to have new trays created for you. This is done to help ensure that there is enough gentle push and pressure to keep your teeth adjusting. Over time, this type of treatment can give you the straight teeth you desire.
When it comes to teeth straightening, there is no better time than right now to get the help you need. Even if you are not sure clear aligners are the best option for you, our team can help you to see them, compare them to other orthodontics products, and give you a full set of recommendations for you to make a decision.
Learn More with an Appointment at Lovett Dental Katy
It is possible to get teeth-straightening solutions for your smile. Our dedicated team of specialty dentists at Lovett Dental Katy can help you compare your options. Clear aligners may be exactly what you need. To get them, you'll need to schedule a consultation with our orthodontics team to learn more about clear aligner trays and how they work and to find out if you are a good candidate. To do that, call 832-437-6477 to get started.